LAKIS, VIMPELI

On the main piste we have a double anchor lift. The beginners side, located on the right hand side has a rope lift which is suitable for children and beginners. The longest pistes has been measured 750 metres long and 90 metres high which makes it the biggest in ostrobothnia.
Next to the piste on the left hand side is the restaurant and a small sledding hill.
The ski hire, ticketting and info-point are located on the lower side maintance building just next to the parking lot.
The road to the cabin village and ski trails are located down on the left corner. Ask for accommodation.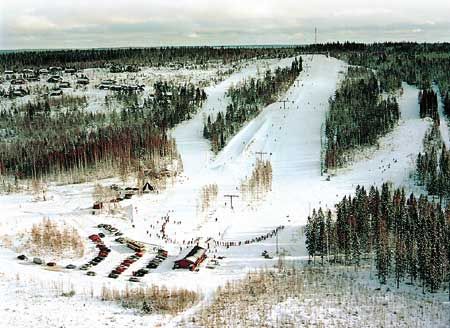 PRICES FOR SEASON 2022-2023
TICKETS FOR WEEKS 8, 9 AND 10



7-11 years
Over 12 years
2

hours

20 €

25 €

Day

25 €

35 €

TICKETS


7-11 years
Over 12 years
2

hours

17 €

22 €

Day (11-18)

22 €

32 €

Evening (17-20 not in weeks 8, 9 and 10)

19 €

27 €

Full season
280 €

EQUIPMENT FOR WEEKS 8, 9 AND 10



Snowboard+boots / Skis+boots
Helmet or goggles



under 12 years

12 years+
2

hours

20 €

25 €

3 €


Day



25 €

35 €

6 €

EQUIPMENT


Snowboard+boots / Skis+boots
Helmet or goggles



under 12 years

12 years+
2

hours

17 €

22 €

3 €


Day

(11-18)

22 €

32 €

6 €


Evening

(17-20 not in weeks 8, 9 and 10)

19 €

27 €

3 €

It is also possible to rent ski equipment for the whole season for a price of
100 € / season